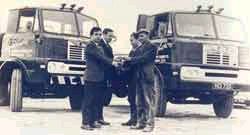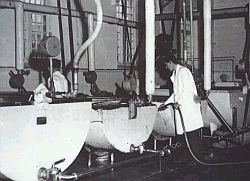 The Co-operative Movement

The agricultural Co-operative Movement was initiated in 1889 by Sir Horace Plunkett to combat the poverty, which had become endemic in the Irish agrarian economy.

The Co-operative movement aimed to improve the production and marketing of Irish farm produce. Irish butter, milk and eggs were so poorly packaged, prepared and graded they were un-competitive in a rapidly changing market.

The first attempt of an agricultural Co-op in Laois was the Skeirke Co-operative Agricultural and Dairy Society, which was set up in 1898. Unfortunately this failed due to the opposition of local merchants and the non co-operation of its producers.

In 1927 the Donaghmore Co-operative Society established a creamery in the old workhouse buildings at Donaghmore. The original aim of the society was to assist farming community in the production and sale of butter.

By early as 1928 branch creameries were opened in Raheen and Coolrain, the latter was forced to close due to the economic war of the thirties. Donaghmore was producing 400,000 gallons of milk at 2.5 d per gallon during 1928.

The success of Donaghmore Co-operative Society was primarily due to the entrepreneurial ability of the local committee, management, and loyal staff.

In 1968 Donaghmore amalgamated with other creameries to form Avonmore Co-op, which continues to be a major economic force in Ireland.

Of course, Avonmore Co-op have since amalgamated with Waterford Co-op to form Glanbia PLC, an international Food and Nutritional Company.